Excavation
York Earthworks is a fully insured, family run excavation company with many years of experience. We're based in the heart of the Lakes Region area and have spent the last few years developing our completely wooded acreage into our vision for a home, farm, and space to run our business. We have an eye for creativity and design and treat every job like it's our own property. We love meeting new people and making sure each client is happy when we leave. We can tackle everything from trenching jobs to the complete excavation for new construction. If you have an idea or plans for a project, give us a call. We'd love to meet you and give you an estimate!
Gravel Driveway & Gravel Road Installation & Grading
The key to a lasting gravel road or driveway is proper installation. There needs to be a sufficient base layer followed by a surface layer consisting of quality materials. Especially important for roads is crowning, which will better allow for drainage to shoulders or ditches. Driveways should also be sloped to the contours of the land to allow for proper drainage. If you have a driveway or road that has issues, it's ok- that can be fixed! Once done correctly, maintenance becomes simple with grading being recommended once or twice a year in the spring and then again in the fall.
The benefits of proper installation and maintenance include:
Saving money on major repairs from wash outs etc.
Use less money each year to fix chronic problems
Less wear and tear on vehicles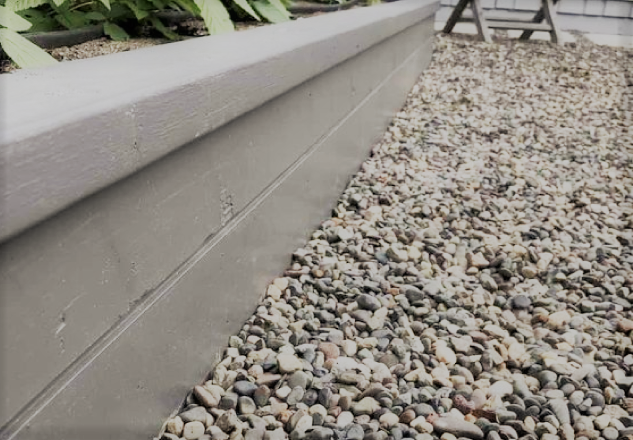 Building a shed, a tiny home or any other small structure is a big investment, so starting with a level pad is essential for protecting your investment. A properly laid gravel pad is often the most economical and inexpensive type of small building foundation. They last longer and drain quickly helping to protect your structure from rot and decay. There are basically 2 types of gravel pads: 1) retaining wall (needs timbers to enclose the pad in a box type frame if the land slopes) or 2) free form (built on top of the ground). Using good quality gravel is also essential. The gravel will compact down filling the air pockets to ensure there's no settling after the building is set. We use a screed board and compact every few inches making sure each layer is level and tight, which results in a solid foundation.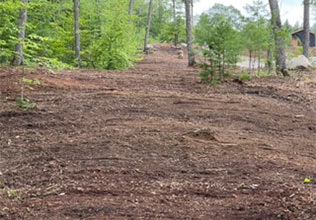 Forestry mulching is a land clearing method that uses one machine to cut and grind vegetation leaving behind a park-like appearance. It is less invasive than other methods of lot clearing and leaves behind a mulch consisting of shredded bark, shredded wood, saw dust and other vegetation. The mulch acts as a great erosion control and a beneficial fertilizer for the soil- breaking down and composting over time adding nutrients back into the ground. It also retains moisture and suppresses weeds.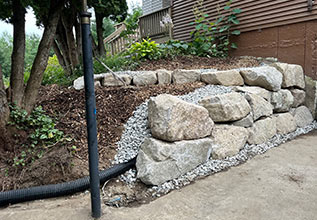 Boulder Retaining Walls & Rock Garden Installation
Boulder walls and gardens are a great way to enhance and stabilize your natural landscape, adding a nice organic touch. And since no two rocks are the same, each wall is unique. The great thing about boulders is that they are virtually indestructible, withstanding time, erosion and pressure. Boulders can be dry stacked or mortared. We do dry stacked meaning that they are placed in a way that locks them together. They are backed with crushed stone ensuring proper drainage. The boulders can be stacked in a more traditional wall form, or they can be randomly scattered giving the opportunity for trees and plants to be interspersed creating rock gardens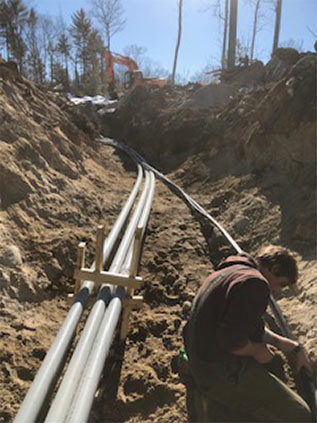 Utility Trenching, Drainage, & Lawn-Leveling
We offer trenching and backfilling for underground utilities including water, sewer, electric and natural gas. All trenches will have proper depth and slope. We backfill with screened sand compacting along the way. Sometimes drainage issues have to do with low spots in the yard. We can also work with you to fill in and grade those areas as well!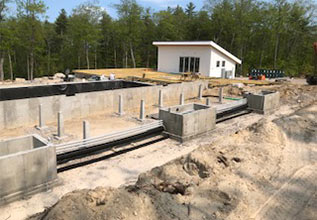 Excavations for Foundations, Slabs, & Frost Posts
Building a home or garage is one of the biggest investments people make, so having it built on a solid foundation is imperative. While we don't pour the actual foundation, we will work with the concrete contractor of your choosing (or we can make suggestions as well) ensuring that the depths and slopes are accurate prior to pouring. Once the foundation is set, we backfill with sand and compact every 6-12" making sure there is no settling. Foundation drains and crushed stone are installed around the perimeter to ensure proper drainage away from your home. As an alternative to a foundation or slab, frost posts may also be used to set cabins, porches, etc.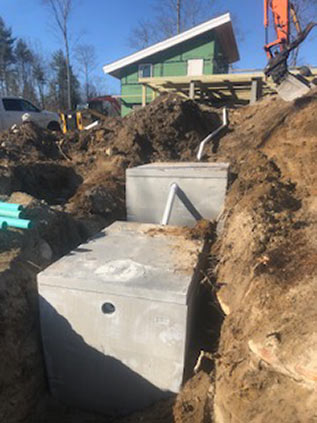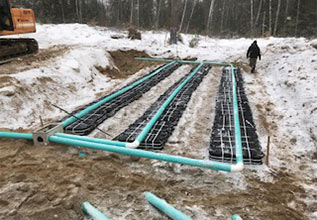 Believe it or not, there's a lot that goes into septic installations, expansions, replacements, or relocations. Let's face it, you want what is flowing through those pipes to go where it's supposed to, making proper depth and slope something you don't want to have to mess around with! Luckily, we have installed, replaced, and relocated our fair share of systems. You will need to start by getting a septic design and permit. Once we slope, level, compact, lay the pipe and set the tank, there will be a final inspection. At that point, everything will be covered with loam, and it should also be seeded to aid against erosion of the site. Once you have a design in hand, we'd love to give you an estimate!